Alpha Omega M.D.

– Episode #253
…Judith Eastman probes the mind of Pan American chief Terry Trippe, who by his interest in spanning the globe, brings him a keener perspective on affairs international…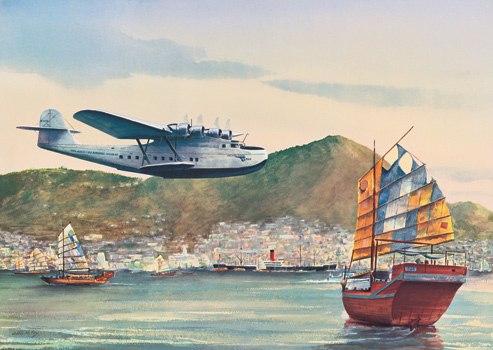 Reality generally tops fiction, hands down, especially for those aboard the Pacific Clipper. Their stop in Honolulu was a dream, thanks to the surprise passenger for the trip, Pan American Airways young President Juan "Terry" Trippe. What was first an airmail flight, Trippe has expanded it into a passenger getaway par excellence. If their visit to the Territory of Hawaii is an indicator, they can throw a schedule out the window. "I mean to show Mary Pickford a good time," claims Trippe, likely to keep that promise, even though Mary has already drawn the line when it comes to any amorous advances. Well, there is always Hong Kong. He will have his choice of girls there.
As the mammoth flying boat lands in one South Sea island harbor after another and the novelty of non-stop fun is wearing off, Judith Eastman takes the opportunity to corner their youthful host for the purposes of picking his brain; the man is nowhere near as "flighty" as he has been coming off until this late in 1935. They will be turning the calendar forward one year tomorrow, the occasion for reflection on the state of the world at large, is there to be had.
"Do you sense that there is something simmering down below us, Terry?" Judith probes the mind of the Pan American chief, who by his interest in spanning the globe, brings him a keener perspective on affairs international.
"Oh, yeah," he replies, reaching for his attaché, pulling out a very official looking packet bearing both the Pan Am heading and United States Army coat of arms. "Take a look at this."
Judith brings down a pair of spectacles from her silky white hair. She reads the ten page document from cover to cover before commenting, "If I am following this correctly, there is a world-wide alert and yet the world isn't in on it."
"That's about it, Mrs. Eastman."
---
Alpha Omega M.D.
Episode #253
---
page 235