Fascinating Facts
About the
Human Body
It's no wonder that so many of us take our bodies for granted; we take them with us everywhere we go. We've all been there when it comes to complaining about aches and pains. People have been known to spend more than a million dollars altering the appearance of their bodies. There are some, such as neuroscientist Randal Keone, who want to end human dependence on bodies by creating computers into which our consciousnesses can be uploaded.
This is overlooking what a beautiful, elegant machine the human body is. Its many intricacies, quirks, and surprises. So let's break out the microscopes and give the wondrous body a little more of its due.
10. The Prodigious Data of Our Genomes
In 2003, after three years of work, the International Human Genome Sequencing Project declared they had finished ordering the data that would allow them to write a human genome. It was noted that this was two years ahead of schedule. Why would it have been expected to take five years to write out the amount of data in a human genome?
Well, a genome is a complete set of human DNA., which as we all know is basically the code that is ordered to make out a specific human and their traits. Though specific traits such as hair color, height, and such only comprise about 2% of DNA while the rest is more or less a standard human template. The code is usually broken down into patterns of the letters U, G, A, C, and T (CC, AT, TG, etc.). A single genome of DNA will have 3.5 billion pairs of data in it to program a human being. This means that when the International Human Genome Sequencing Project completed their mapping, they had finished the equivalent of translating 100 encyclopedias worth of information! You'd think almost no one would have that much to write about them, even after Twitter came around.
9. I'm Radioactive
Part of the reason human beings are radioactive is inadvertent. The radioactive element strontium-90 tends to accumulate in bones because the body tends to mistake it for calcium. Relatively large amounts of that were spread around around the world due to pervasive nuclear weapons testing, but since it has a half-life of 29 years the worst effects of that have passed. The more pressing concerns for many are those who absorbed the material from such nuclear disasters as Fukushima in 2011.
The body more directly creates radiation through its nervous system. Every time you use your nerves to move an organ, think, etc., that causes the fission of a potassium-40 atoms, and that fission releases gamma radiation. On an average human being, roughly 10% of that will leave the body (lower on a heavier person). This translates to a lifetime spent sleeping with another person being the equivalent of spending a few days in Denver or some similarly high-elevation city. This is to say that we're not radioactive enough to produce much energy. If all the nerves in your brain were harvested for electrical power, it would take roughly 2.85 days of charging time to fill up an iPhone.
8. Seeing with Your Ears
If you look at someone in the eye, you're looking at one of the body's most counterintuitive contraptions. When you see something, first light passes through the lens of an eye, then it casts itself on the retinas in the back of the eyeball. In the process of passing through the convex material of the lens, the light is refracted onto the retinas upside down. So how does it process as right-side up by the time that the information gets into the back of the cerebrum where the brain is located?
This is where the ear comes in. It's the vestibular nerve in the ear that connects your eyes to your balance center and corrects your vision for the brain's benefit. This has some handy benefits merely having the retinas connected directly to the brain wouldn't provide. For example, it's the reason that you can tilt your head at a 90 degree angle without the world appearing tilted. This discovery has led to the belief that newborn babies, with their nervous systems that are still coalescing, actually do see the world upside down. So far, though, none of them have said one way or the other.
7. Glowing Bodies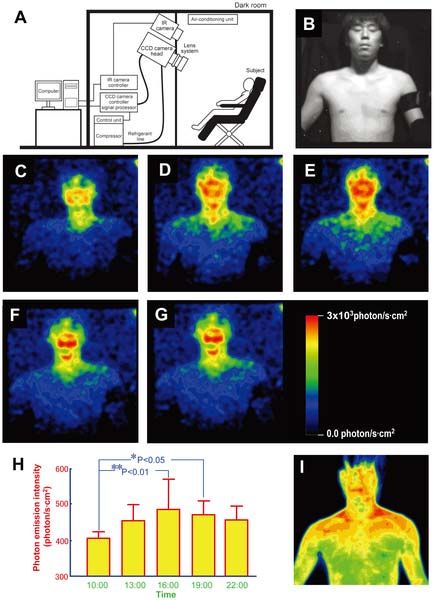 Sure, you've heard about how people with a certain mood or style are glowing, but this is a bit more literal. In 2009, researchers Masaki Kobayashi, Daisuke Kikuchi, Hitoshi Okamura photographed the first known images of a human being glowing, although the basic science of measuring biological photon reactions had been known since the 1960s. They placed five test subjects in a light tight environment, brought out a charge-coupled device camera, and spent seven hours photographing them. While the temperature remained constant, it was found that the amount of light/photons that their bodies emitted changed through the course of the day.
This is not to say that you should be hoping for people that can save many on lightbulbs anytime soon. The amount of light is roughly 1/1000th that of what would be visible to the naked eye. Still, since the rate of photon emission was found to be linked to metabolism, Kobayashi suggested that after more study the technique could be refined to use to diagnose metabolic conditions. In the years since, some studies have been conducted with photon emissions to test the effectiveness of meditation. The results are reportedly promising but inconclusive.
6. New Body Parts at Different Rates
Everyone knows from lessons about the dangers of excess alcohol back in their teen years that we only get one set of nerve cells that never replenish. But what about the other organs? How long does it take to replace them?
Well, for one, the lining of your stomach only takes a few days to replace due to the corrosiveness of stomach acids. Your skin cells are comparatively long-lived with an average of three weeks. The liver cells stick it out a robust 150 days.
The longest lasting of the cells that do get replaced are bone cells. Those last long enough that your bones last an average of 10 years each. Each cycle, though, they tend to regrow a little thinner. This is why they're especially vulnerable among the older generations. As of 2020, the National Institute of Health estimates that roughly 50% of Americans over the age of 50 have chronically weak bones.
5. Growth Hormones Can Cause Shrinkage
In the early 20th Century, experiments in injecting growing males with testosterone and females with estrogen began. The idea with the females was that it would normalize their menstrual cycles, and for males that were not growing satisfactorily to get taller. In the long run, the results would show the effort was a misfire. The estrogen injections increased breast cancer rates for women in their sixties, and for the males the testosterone could backfire in a more immediate way: their pituitary glands shut down because the body was already full of testosterone, so there was no growth.
By far the most famous recipient of this misguided treatment was Rainbow Connection and A Star is Born songwriter Paul Williams. Since his father was over six feet tall, he thought the fact Paul was only four 4-foot-6 in fifth grade meant there was a problem and started therapy. Williams said that it stopped the growth of his bones and sent him into puberty at age 10. Some things it just doesn't work to try and force.
4. We Needs Metals
It's standard practice to include the heavy metal content on a nutritional information label, but why do we need copper, zinc, or iron? Well, we need copper to control heart rate and produce all sorts of cellular tissue, from bones to heart cells. Zinc is used for cell division and dissolving carbohydrates for heat and other forms of energy. Iron also is used in metabolism, but with the addition of helping transfer oxygen to cells.
The amounts of metal in a body vary significantly and in some instances can be surprisingly substantial. An average adult human only has roughly 50-80 milligrams of copper in them, barely over 2% of an ounce. By contrast, it's often said that an average adult human has enough iron in them to make a nail three inches long. Let's hope for your sake that this is the only way anyone will say you have one of those in you.
3. 98.6 and Falling
Of all the entries on this list, this one likely provides the single best piece of news. In 1851, the standard temperature for a healthy adult male body was set at 98.6° F. Since then, studies such as the one performed in 2019 by Dr. Julie Parsonnet of Stanford University of 677,000 measurements found that the average man's temperature had dropped down to 97.9° F. It hadn't been a rapid dropoff. The average had been roughly .05 degrees per decade. Women came in at around 97.3° F.
According to Parsonnet, the reason behind this isn't related to a lack of activity on the part of most people. It's because with the adoption of healthier lifestyle habits and improvements in antibiotics, the number of people whose immune systems are constantly fighting colds and flus while remaining functional has declined. Not to mention that the fact that more and more people are living in homes with reliable temperature control means that more peoples' bodies no longer require inflammation to remain active. Who's to say if it won't turn out in the next century that optimal human temperature is a degree or two lower?
2. Calorie Counts
Now this, admittedly, a fairly grisly entry for this list. In April 2017, historian James Cole of the University of Brighton was researching cannibalistic practices in ancient tribes to see if they were performed purely for ritualistic purposes or for survival. To this end he decided to determine the fat and caloric content of human bodies to see if they would yield a worthwhile amount of sustenance compared to available prey. He came to a conclusion that an average adult male human body weighing 145 pounds contains roughly 125,000 calories. Since the generally accepted amount of calories a person needs in a day is about 2,000, that means a human body would feed another human for slightly over a month and a family of four for slightly over a week, though as we learned in the previous entry harder living certainly meant people burned through calories faster. A red deer from the time would yield roughly 160,000 calories for less risk, which left Cole inclined to conclude that humans were impractical as a food source and thus the cannibalism was likely more for religious or militaristic purposes.
Cole went into thorough detail in the analysis of a body's calorie value. For example, a one pound heart provided 650 calories. The liver is 2,569. The lungs are 1,596 calories combined. Skin offers about 10,280; bones 25,330. The delicacy of zombies, the brain, provides 2,700 calories.
1. Makes Own Drugs
To think that in a few ways, every person is a mobile drug lab. For example, there's dimethyltryptamine, which is a hallucinogenic Schedule 1 drug often extracted from mushrooms. It also naturally occurs in human cerebrospinal fluid and related to dreams. It's speculated that near-death experiences are related to it. Then there's the opiate pain reliever morphine, which in 2010 experiments indicated (inconclusively) the brain creates out of the chemical tetrahydropapaveroline.
More firmly established in the late 1980s was that the body produces its own cannabinoids, specifically CB1 and CB2. Beyond the intoxicating effects, the National Academy of Science reported in 2006 that CB2 is used by the body to regulate bone growth. Since then there have been findings that these cannabinoids are used for regulating a number of other physiological functions, which is why in some cases it's better to rely on the body's own cannabinoids than ingest some more.
---
Not Just a Bucket of Bones
WIF Medicine